Hey
Ya'll
, thanks for coming back for another edition of
Gettin
' Crafty on Hump Day!!
I wish I had a craft to post this week, however, my craft room has currently been compartmentalized into tiny cardboard prisons. Don't worry tho, I'll unpack it soon and be back on my way to creative expression.
In the meantime, PLEASE post some links so I can live vicariously through you all while my house is in complete disarray!!!!!!!
Leave me a comment if you post and
PLEASEEEEEEEEEEEEEE
put my button on your blog somewhere :)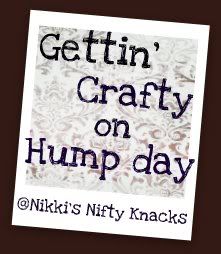 Spread the comment love and visit some other links too! ;)