Ummmmm
, so I forgot it was Wednesday, AGAIN. I'm telling you, I think my brain is still packed in one of these boxes. As soon as I find it my life will go back to normal. Well...my version of normal...So, we'll just do this a day late and pretend I didn't forget.
Ok
, alright, sounds great, and away we
goooo
...
Thanks for coming to this weeks edition of
gettin
' crafty on hump day! Last week our most popular project was
"Snapple Vases"
by
The Hand Me Down House
Ok
peeps, lets party! Please leave me a comment if you link and please post my button on your blog somewhere :)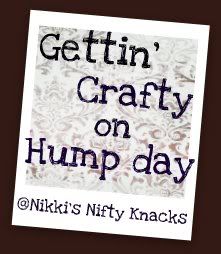 Share some comment love elsewhere too :)